Automotive market
The automotive and auto parts sector in Mexico has been driven by the productive presence of the top ten (light and heavy) vehicle assembly companies in the world, such as General Motors, Ford, Chrysler, Volkswagen, Nissan, Honda, BMW, Toyota, Volvo and Mercedes-Benz. *
*Asociación Mexicana de la Industria Automotriz (AMIA) (2014)
Over 5 million vehicles produced in Mexico with more than 48 car and light truck models. At a global level, Mexico ranked as seventh producer of light vehicles., surpassing French and Spanish production in the last 2 years. Currently, the automotive sector accounts for 6% of the national GDP and 18% of manufacturing production. The Mexican automotive industry is expected to continue increasing in the future.
Home Appliances
Household appliance manufacturing in Mexico began many years ago along the border cities with somewhat unsophisticated general assembly. Today, most of the biggest names in household appliances, such as Electrolux, Whirlpool and Fisher & Paykel, all have large, state-of-the-art appliance manufacturing facilities in Mexico where they produce everything from refrigerators to washer and dryers.
The supply chain for the household appliance industry in Mexico has experienced tremendous growth over the past few years as well, primarily due to wage inflation in other countries, such as China and the United States. Another factor is the OEM's requirement for just-in-time delivery, which requires the supplier to be within a 1-2 hour driving distance from the OEM's assembly plant.
Industrial & Commercial
Manufacturing in Mexico Light industrial manufacturing in Mexico is common in the maquiladora industry. Most of this industrial manufacturing in Mexico is located along the border, either in Tijuana or Cd. Juarez, for export back to the United States. Within the Mexico's industrial production and maquiladora industry, a lot of the factories supplying the industrial industry are assembling components, as well as manufacturing from raw materials.
From injection-molded plastics to machined metals for hydraulic cylinders, the manufacturing industry in Mexico for industrial equipment continues to grow. Because many OEMs are now moving manufacturing to Mexico, their suppliers are following.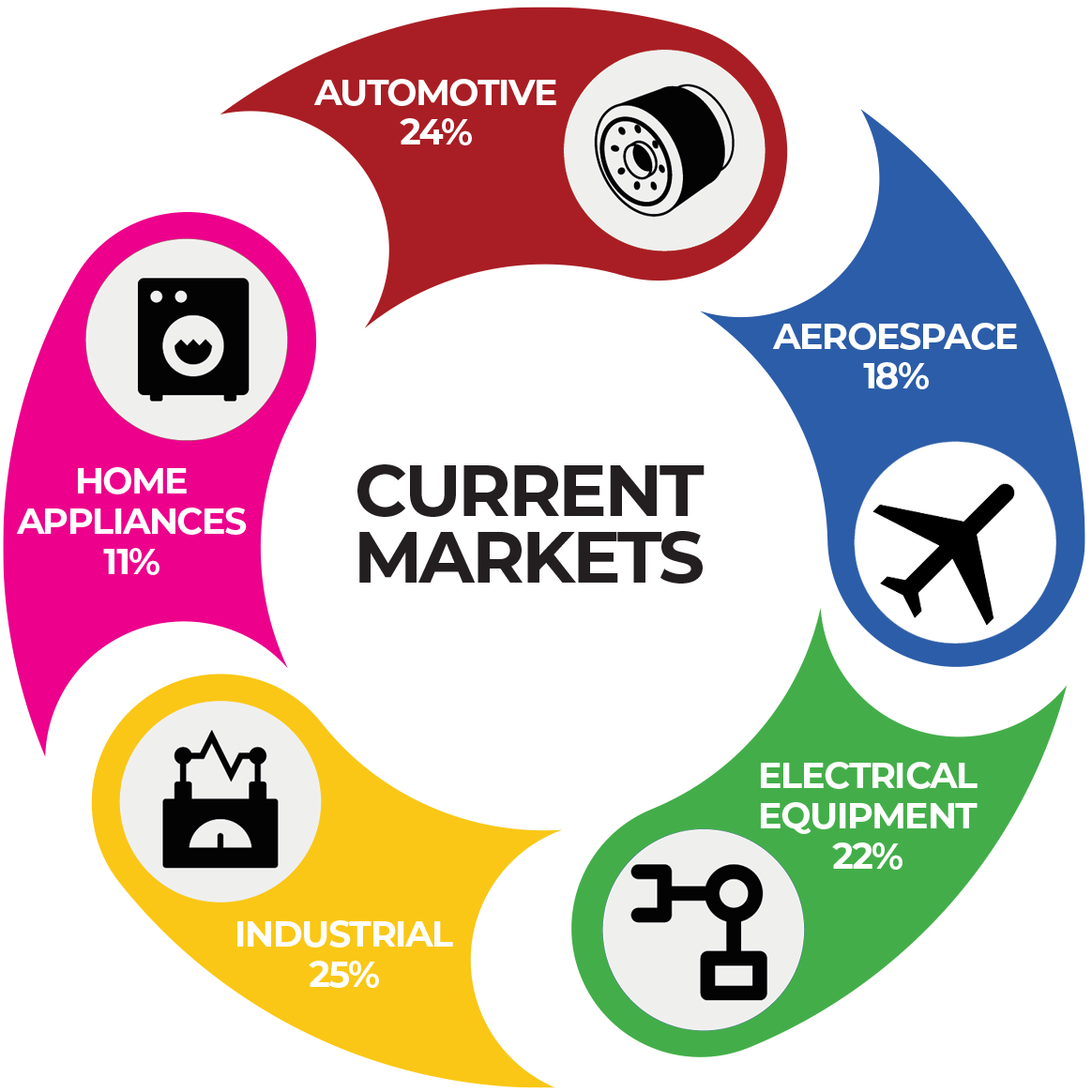 Electrical Equipment
The industry is highly globalized and is defined by the high level of international trade integral to the success of its largest companies. Due to the comparatively lower wages commanded by employees in Mexico relative to the United States and Canada, many of the world's largest electrical equipment manufacturers have opened facilities in Mexico over the past ten years. Internationally based companies, such as the General Electric Company and ABB Group, both have establishments in Mexico. Over the five years to 2019, the industry has steadily expanded.
Aerospace
The aviation and aerospace industry in Mexico is one of the three largest industries manufacturing in Mexico today. The Mexico aerospace and aviation industry has proven to be a lucrative investment for Mexico and its manufacturing base, exceeding $3 billion annually within the last few years. Over the next 5 years that number will continue to grow, while simultaneously creating 35,000 jobs in Mexico. 200 aerospace companies in Mexico currently manufacture and employ more than 200,000 people.
Sales & Customers By Region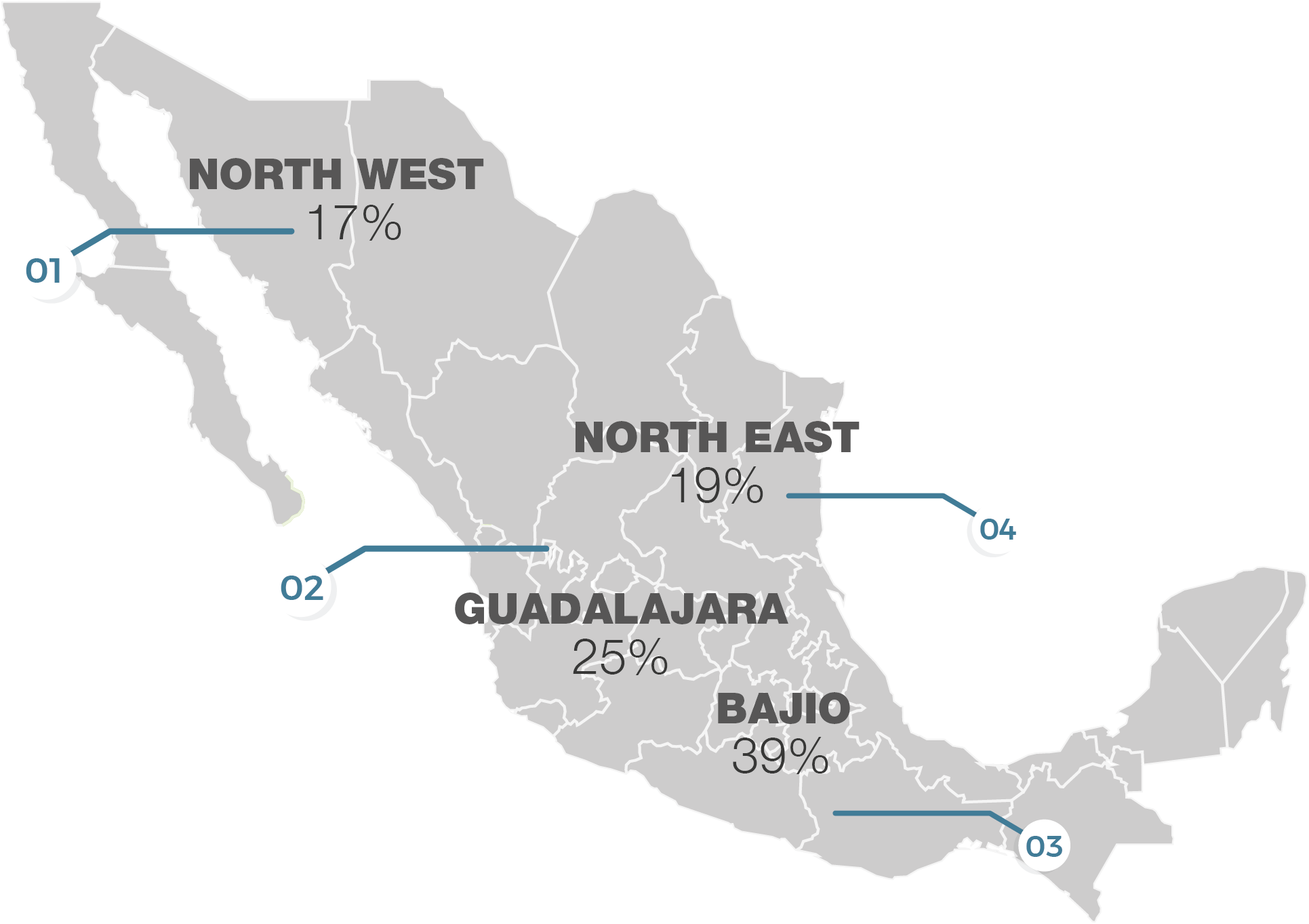 01

JOHNSON CONTROLS
MOLEX
DIALIGHT
HONEYWELL
02

SANMINA
FLEXTRONICS
BENCHMARK
JABIL
CEPILLOS CASTOR
03

AMERICAN AXLE
YACHIYO
MATLOW
IMI PRECISION
NORGREN
FLEXTRONICS
TREMEC
ZOPPAS
04

SCHNEIDER
KATCON
LINAMAR
MAHLE
JOHN DEERE
SIEMENS POWER
HALDEX BRAKES